Mcard
Mcard is a standard form factor SD card. Powered by built-in KeyASIC's proprietary SPG-series microcontroller, Mcard is an industry class NAND flash storage device with Wi-Fi connectivity. User can see Mcard as an Embedded Linux Computer with SD interface, Wi-Fi capability and extendable FLASH storage with adaptor for micro SD cards of different storage capacity.
Specifications:
● Memory card SDHC class 10, 16GB or 32GB
● Wireless interface 802.11b/g/n
● Wireless security WPA2
● Wireless range approximately 10m
● Wireless speed up to 65Mbps
● Wi-Fi data transfer 2MB/s
● Dimension 32mm X 24mm X 21mm
● Weight 4g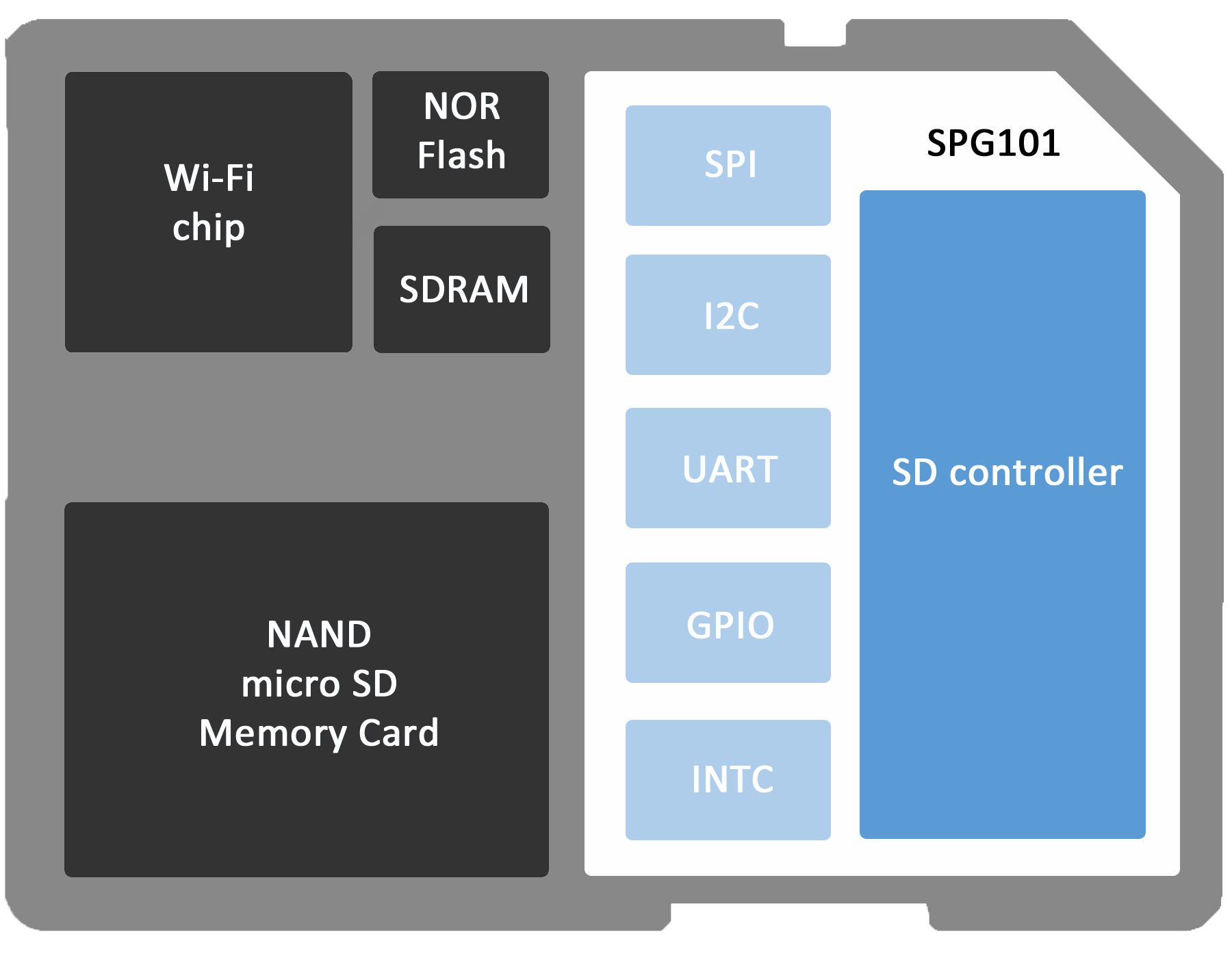 Just few simple steps to enable Wi-Fi connection on your device.
1. Power OFF your device.
2. Inserting Mcard into any devices that have SD slot will convert it into an IOT devices as Mcard enable it to connect to the internet or cloud directly via Mcard built-in Wi-Fi.
3. Power ON your device.
4. Connect PC, Tablet or smartphone to your device with Wi-Fi. Data can be transferred bi-directionally between host device and internet or cloud through Mcard. Control on the system is made easy by using either mobile application or web browser.
No complicate hardware or software installation are required, it's as simple as plug and play. Contact us to enquire more information of Mcard.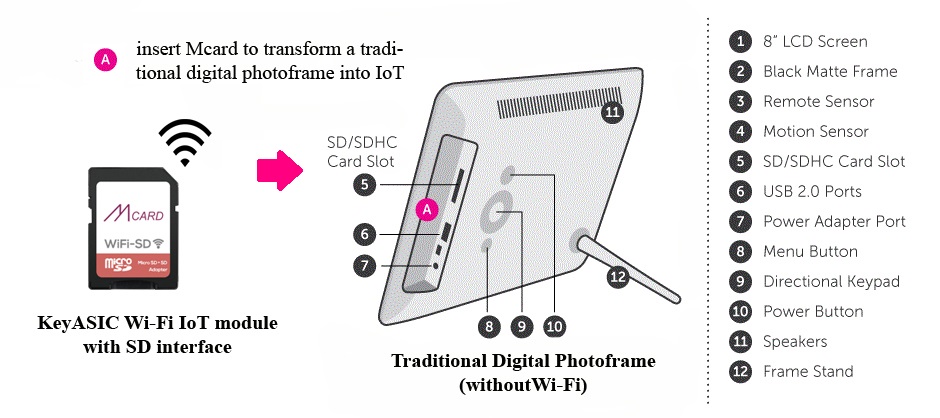 Mcard Wi-Fi SD Card to Enable Wireless Data Transfer Feature for Digital Medical Diagnostic Scopes / Cameras
The increasing preference to capture high resolution digital images rendering excellent clarity and precision in medical and healthcare applications is driving the demand for digital medical scopes and cameras market. In addition, the handheld digital medical diagnostic scopes and cameras will facilitate accurate diagnosis of several conditions and aid in decision making by doctors and clinicians at any time and any place, largely raise the flexibility and efficiency of diagnostics compared to traditional station equipment. A huge growth of handheld medical diagnostics scopes and cameras are expected to occur in near future.
Once the medical scopes and cameras capture high resolution image for identification and determination of any particular disorder or anomaly by doctor, the next critical requirement will be how to file the images to main database for future tracking and backup of the complete history of patient. Mcard is the most powerful Wi-Fi SD card to address this issue by enabling Wi-Fi data transfer feature on digital diagnostic scopes and cameras thru exist SD socket.
Just do below simple steps to enable Wi-Fi data transfer feature on digital diagnostic scopes or and cameras thru SD socket of the scopes or cameras:
1. Power off digital diagnostic scopes or cameras, insert Mcard into SD socket of scopes or cameras
2. Power on digital diagnostic scopes or cameras
3. Connect PC, Tablet or smartphone to digital diagnostic scopes or cameras with Wi-Fi, activate the APP, done. Now user is ready to exchange files between digital diagnostic scopes/cameras and PC/tablet/smartphone.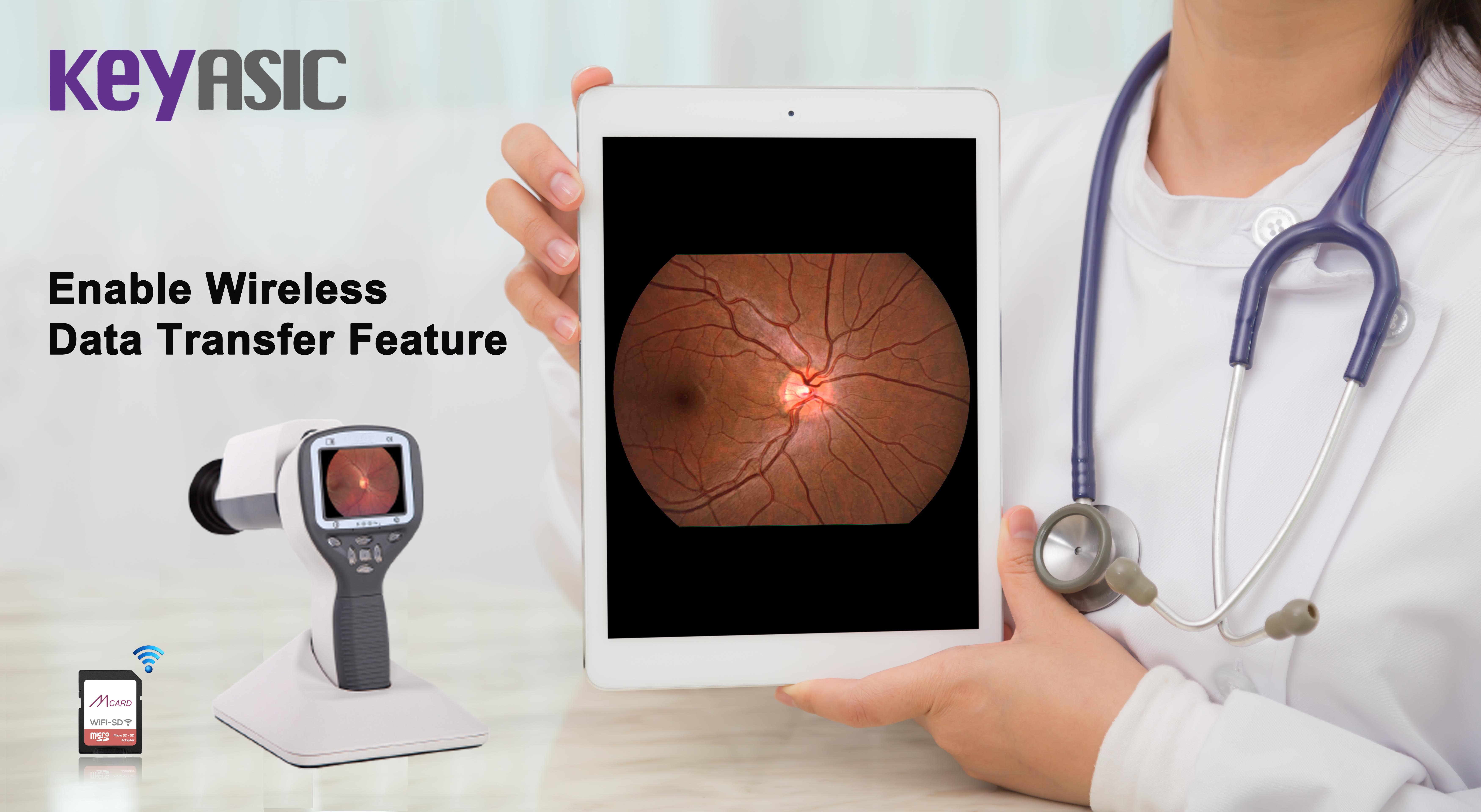 Mcard Enables Wi-Fi Connection for Industrial Machines
The machinery industry produces different kind of products, for example engines, pumps, logistics equipment; for different kind of markets from the agriculture industry, food & beverage industry, manufacturing industry, health industry, and amusement industry till different branches of the consumer market.
A new trend of connected machines that leverage the Industrial Internet provide a communication control infrastructure so you can get smarter about the way you do business—keeping you ahead of the competition.
The connectivity across your plant and enterprise enables you to leverage real-time insight into machine and facility and resources consumption, a deeper understanding into the interdependencies between performance and resource usage, and advanced analytics for critical decision support. Thus, you can drive continual improvements for manufacturing sustainability—accelerating your competitiveness today and into the future.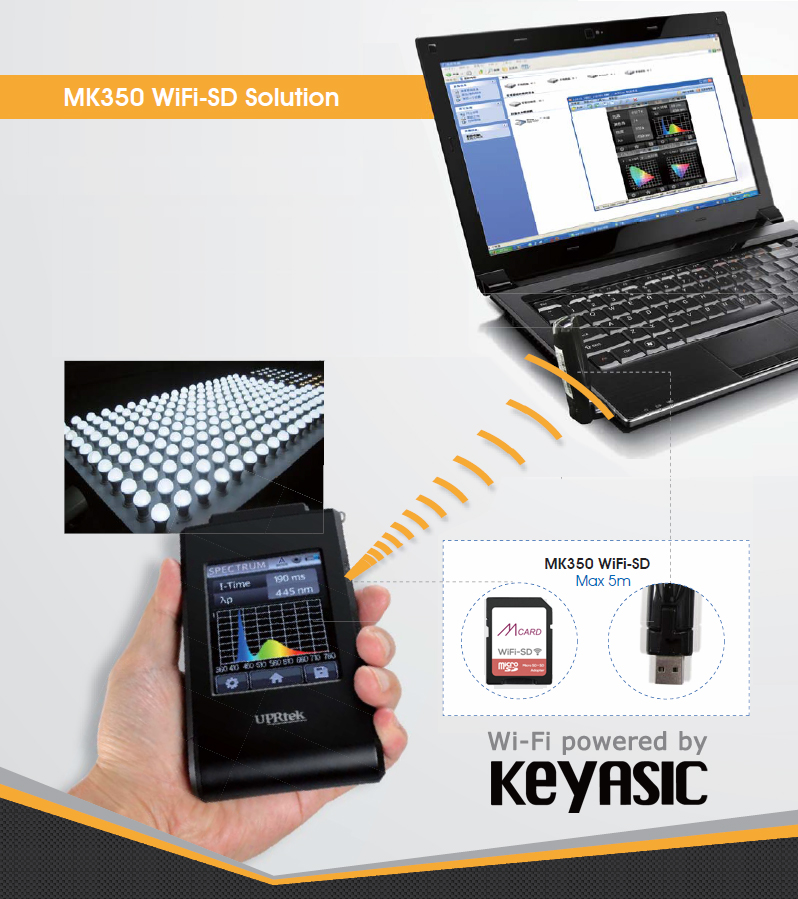 Mcard for medical equipment – turn your products into Internet of Things
Do you have any medical equipment that stores data on SD, CF card? Now there is a chance to turn that into a connected medical equipment and healthcare applications without any hardware changes. KeyASIC offer one of the simplest, quickest, cheapest and yet highly reliable solutions.
KeyASIC Mcard is one of the quickest way to connect your devices to the mobile devices or internet. Mcard contain built-in CPU and Wi-Fi module all within the small form factor of a standard SD card and common thumb drive.
When Mcard is plugged or connected to the medical equipment, digital medical scopes and cameras, medical data is written into the NAND flash inside Mcard. At the other end, medical data is sent out wirelessly to the internet, cloud or personal mobile devices. Patient and doctor are able to monitor patient's health instantly and remotely. It simply transform and improve patient's care without too much of efforts. This is possibly the quickest and cheapest solutions available in the market as of now.
Besides that, KeyASIC is also capable of helping customer setting up the storage / computing cloud as well as the mobile APP to interface with medical solutions upon request.