ASIC / SoC Turnkey
KeyASIC has been offering design services and turnkey services since 2006, from the old 0.25um all the way down to 16nm process technology. The increasing complexity and functionality of today's ASIC and SoC have brought out much more challenges than the traditional chip implementation. With 12 years of experience in IP, ASIC, SoC development and semiconductor manufacturing, KeyASIC is one the leading fabless design house that can help customer achieve their end target with shorter time and lower investement.
At KeyASIC, we provide comprehensive ASIC/SoC design service with a well-developed infrastructure and expertise in the industry. Our objective is to meet customers' chip design needs, accelerate their development process and deliver market proven silicon products in the shortest time and the lowest cost. KeyASIC's professional ASIC/SoC design and production (OEM) approach offer flexible engagement model. Customer is able to gain control and ownership over the whole development process. Customers may contract KeyASIC's ASIC/SoC turnkey services in a whole or partially, without restrictions on business or volume size.
ASIC / SoC Design Services:
● FPGA-to-ASIC conversion
● Chip architecture design & RTL coding
● Spec-to-GDSII, RTL-to-GDSII, Netlist-to-GDSII
● Design-for-test (DFT), JTAG, Scan, ATPG, Memory BIST
● Hardening of digital/mixed-signal IP
● Automated Place & Route
● IP (GDSII) merge
● Logic cells power/timing characterization
● Customization/optimization of Logic cells
● Circuit & Layout customization & optimization
● PDK development & validation
● IP porting & validation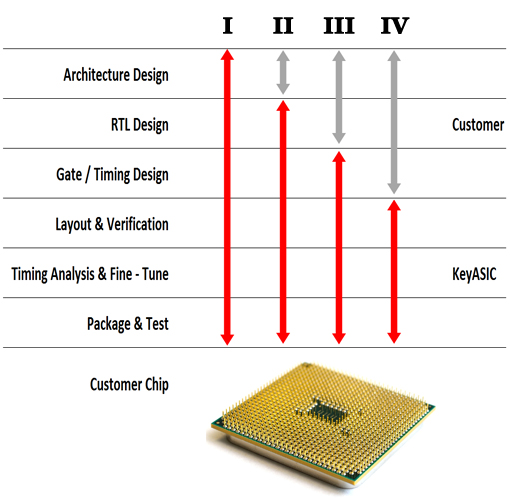 Foundry and Process Technology :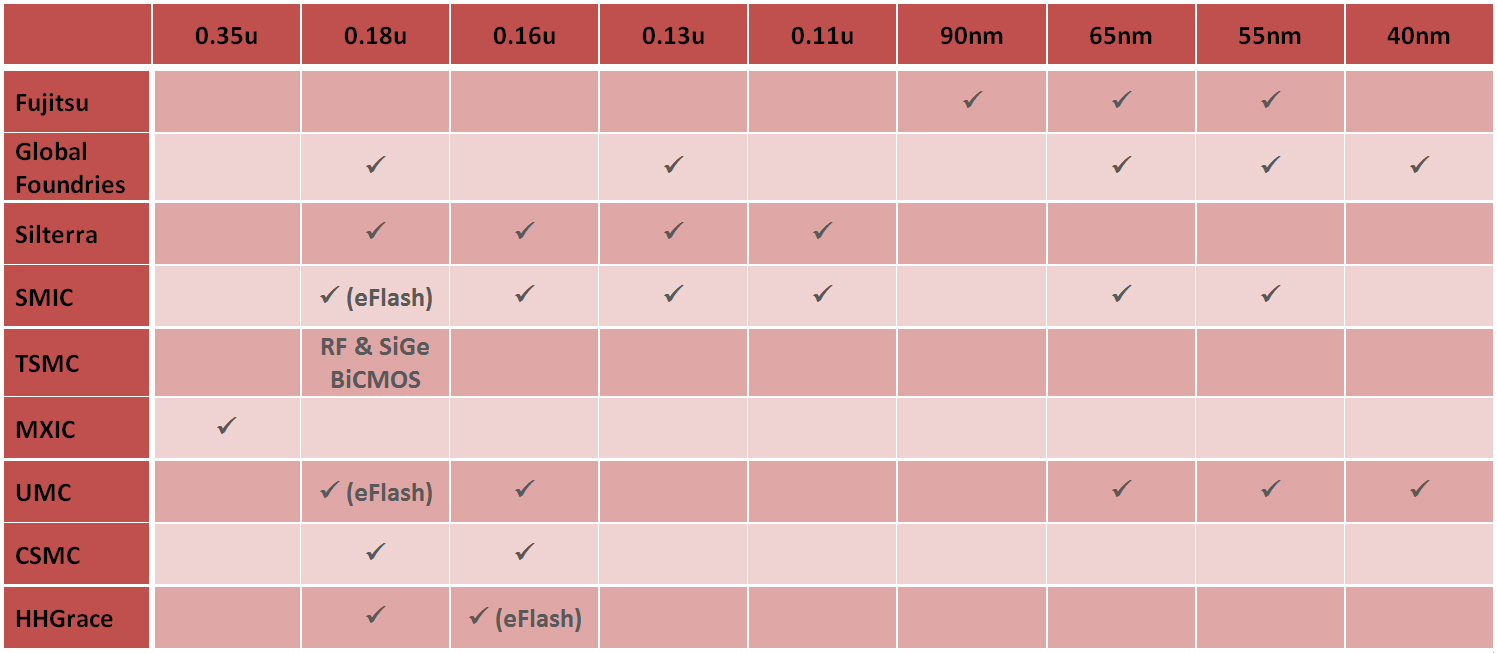 Package & Test Turnkey
As design complexity increases, packaging and testing represent a significant portion of the overall chip cost. Key ASIC works closely with industry partners to provide a wide selection of advanced and cost effective package & test offerings, such as high-speed interface, low power dissipation greater choice and flexibility translate to minimum cost for our customers.
Package Options:
Partnering with leading 1st & 2nd tier packaging partners like ASE & OSE, Key ASIC provides a wide range of package turn-key solutions from complex System-in-Package (SiP), Multi-Chip Module (MCM), Ball-Grid-Array (BGA) to the cost-sensitive legacy Quad Flat Pack (QFP) in order to satisfy customers' increasing demands for smaller sizes, more I/Os, and lower costs.
Testing Program and Test Environment:
Test program and environment prepared for each ASIC prototype are developed and monitored carefully by a group of experienced in-house engineers. At the mass production stage when all of the settings of a test program are confirmed, the test program and the production documents are sent to our test partners to ensure accuracy before production begins. Only after careful verification will only the test program be formally released to our test partner. Various tester choices are supported for different performance/cost requirements through qualified outside partners who meet customers' capacity and cost objectives.
Production Turnkey
KeyASIC is fully committed in providing to our customers with manufacturing flexibility, optimal value, quickest time-to-market silicon solutions and a dedication to customer service with our unique one-stop production management expertise.