RYC™ & iMedic™ | Your Personal Mobile EMR cloud
Story
Today, no clinic or hospital has a complete medicalToday, no clinic or hospital has a complete medical record of the patient from cradle to grave because patients visit multiple hospitals in general.
Sometime they visit multiple doctors / hospitals even fora single sickness. Most likely, they'll ask the patient torepeat some medical tests and examinations even theymay have just done it in another hospital a couple of weeks ago.
Different instances of medical records are scattered indifferent hospitals. It feels like it's taking forever to collect all data.
The patient HAS A RIGHT to have his / her own full medical records to obtain the data from each hospital visit and organize themselves.
No one has your full medical records EXCEPT YOURSELF.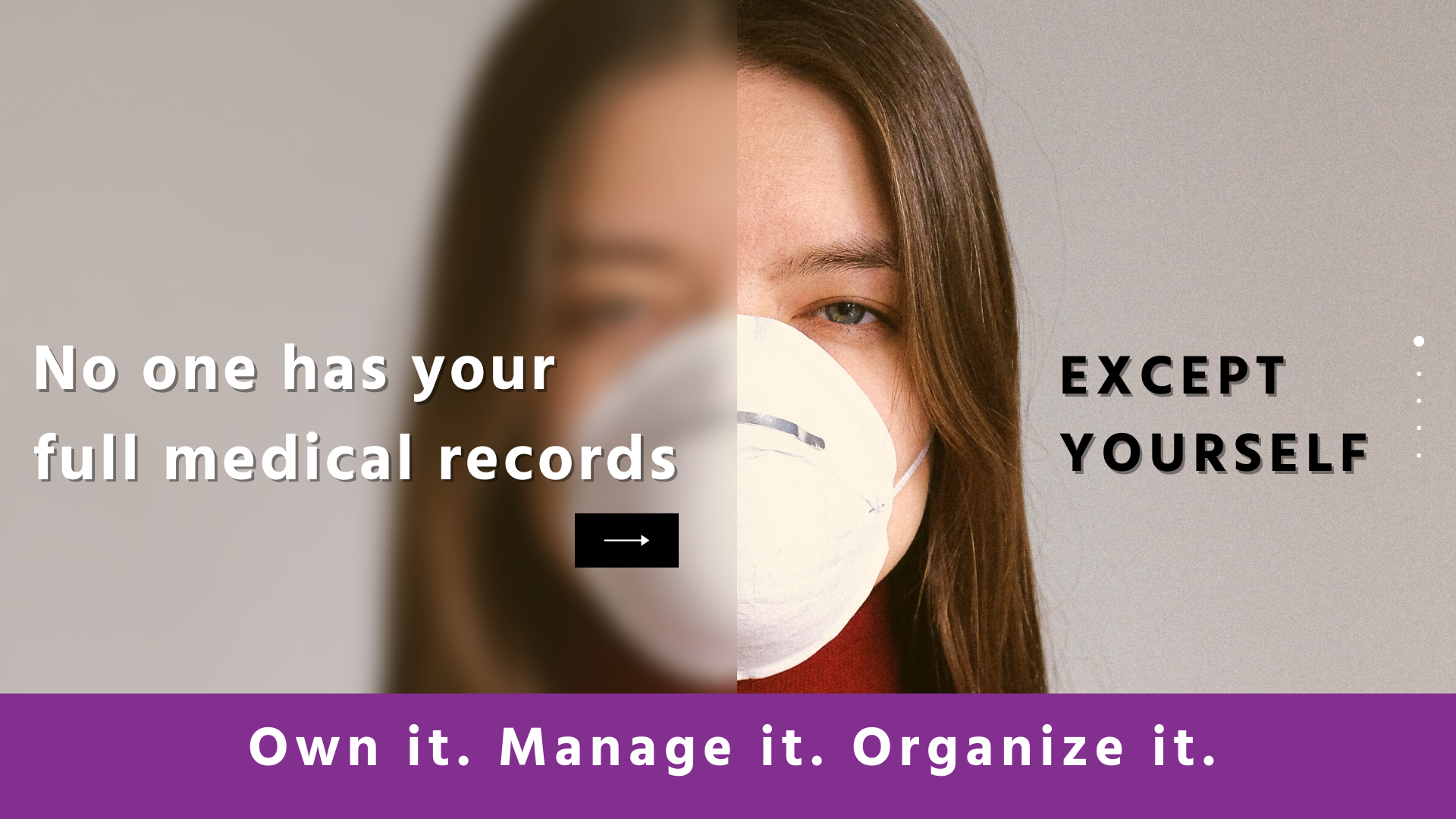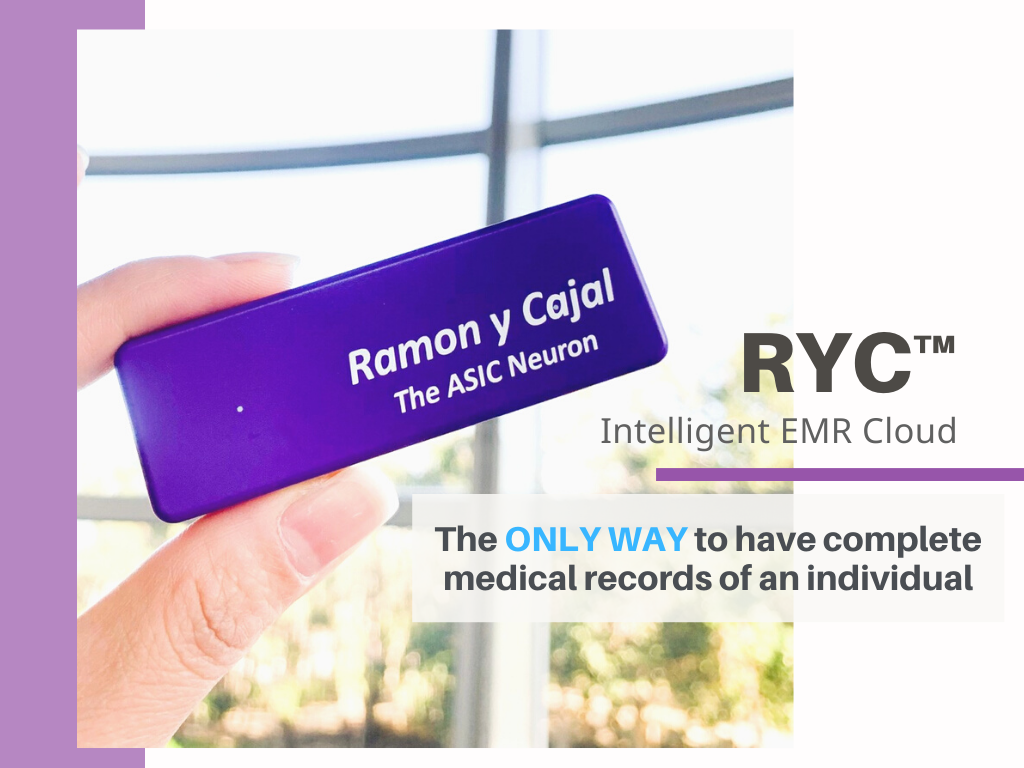 Here's a great gadget called RYC™, a smart drive, aggregates all your Electronic Medical Record (EMR)to iMedic™ cloud when you visit the hospital.
The medical data is automatically transferred to iMedic™ - Digital Hospital Platform thru Wi-Fi.
This is the ONLY WAY to have entire personal medicalThis is the ONLY WAY to have entire personal medicalrecords of an individual for life.
With the RYC™ & iMedic™, patients can reduce expensive duplicate testing or imaging procedures because the results and images are all in one place.
Doctors can quickly review which diagnostic tests a Doctors can quickly review which diagnostic tests apatient has had on iMedic and easily follow up and track continuing care.
RYC™ & iMedic™ offers benefits to both patients andRYC™ & iMedic™ offers benefits to both patients and doctors with better coordination among healthcare providers leads to more accurate diagnoses and delivermore efficient patient care.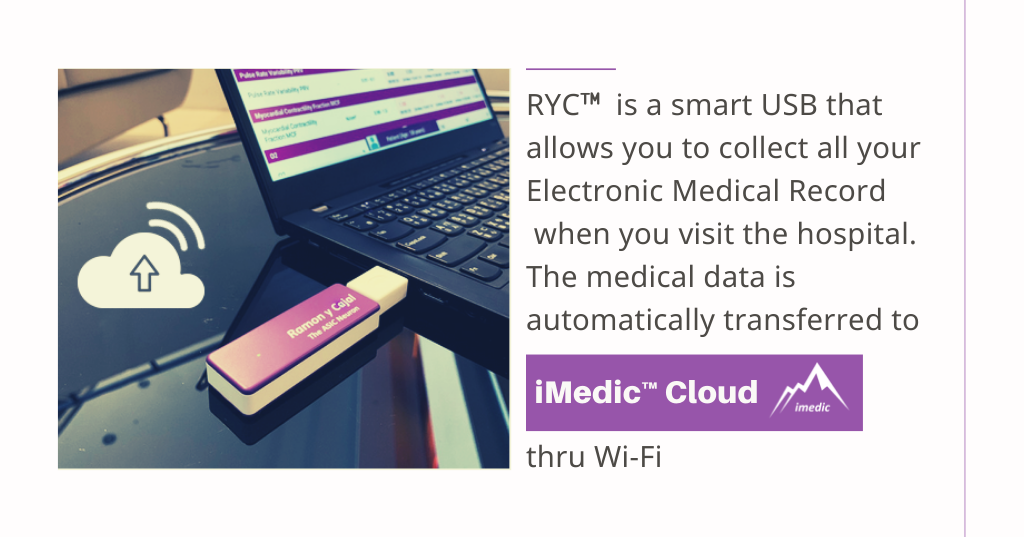 What is iMedic™ ?
iMedic™ is the leading platform that has incorporated the digitalization capabilities that enable onlineservices of medical consultation, prescription, medical devices, Insurance, pharmacy.
Complete the EMR in the Cloud by collecting themedical imaging and medical diagnostic report with personal RYC™ Over 1,000 Renowned Global Doctors™.
Biggest Variety of Approved Mobile Medical DevicesBiggest Variety of Approved Mobile Medical Devices Connected, 20+ devices.
Inspirational Success Story
Let's see how iMedic™ helps patients to increase theirquality of life and quality of healthcare.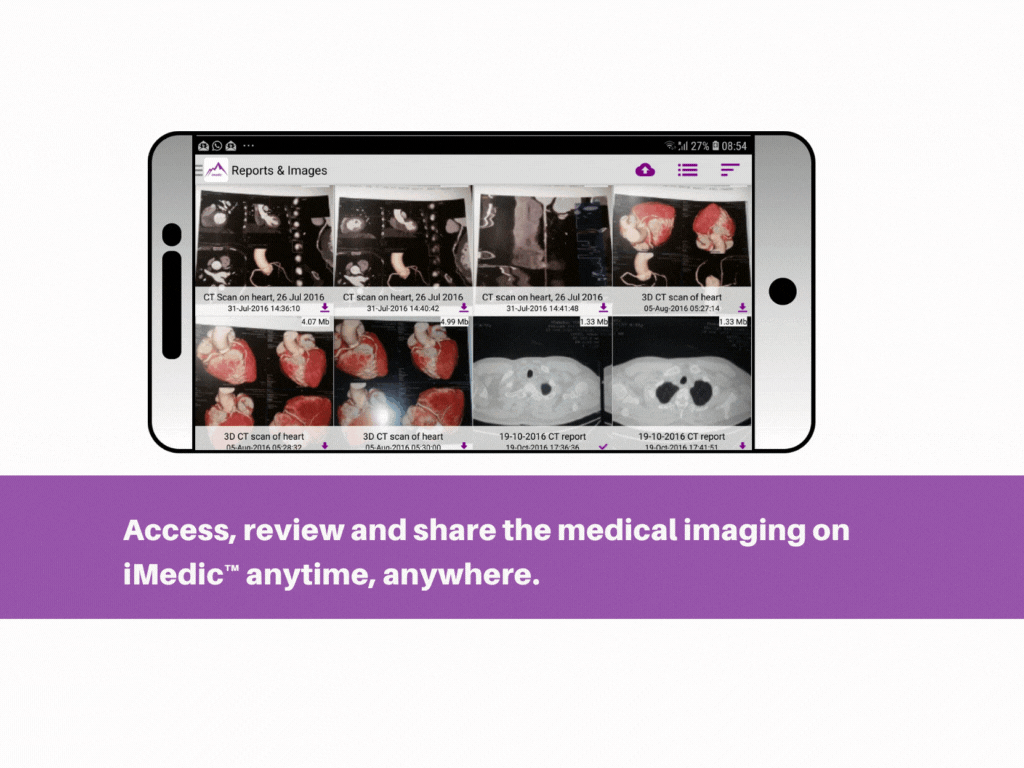 Telemedicine in Post COVID-19 era
Recent research has indicated that COVID-19 will be fundamentally change human behavior when COVID-19ends. Wearing masks and social distancing may be a 'new norm' all over the world. Meanwhile, the healthcare habits and behaviors are also changing in the post-COVID-19 era.
The rising number of COVID-19 infections across the globe is one of the key factors driving the demand for telemedicine.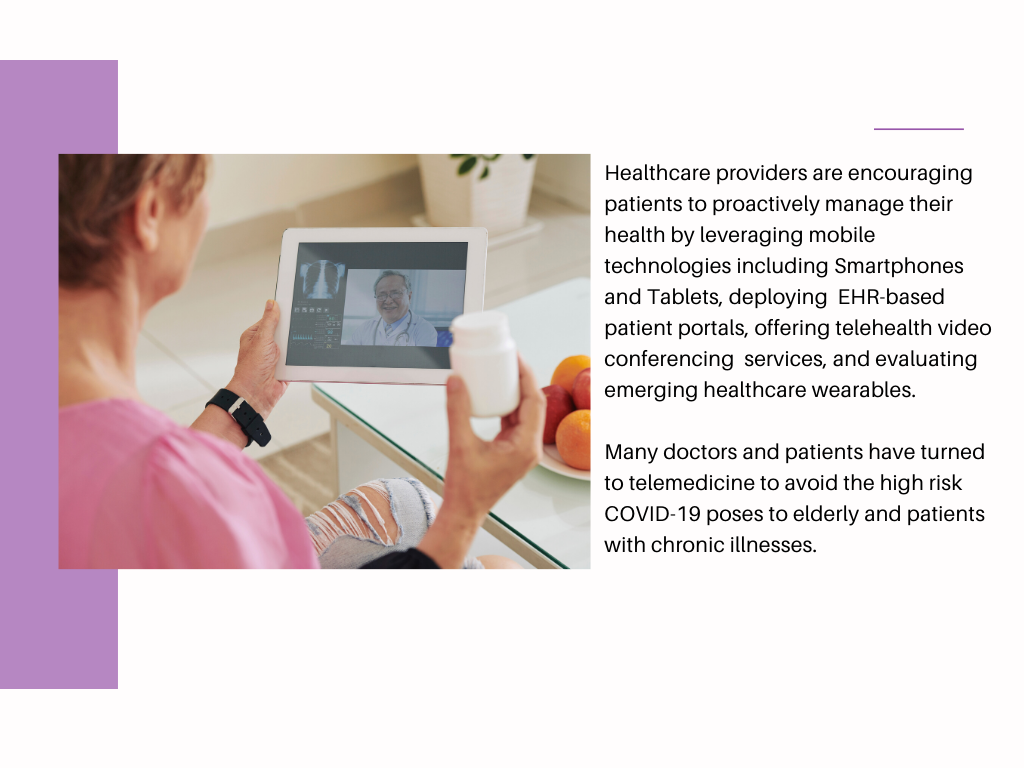 Healthcare providers are encouraging patients to proactively manage their health by leveraging mobile technologies including Smartphones and Tablets, deploying EHR-based patient portals, offering telehealth video conferencing services, and evaluating telehealth video conferencing services, and evaluating emerging healthcare wearables.
Many doctors and patients have turned to telemedicine to avoid the high risk COVID-19 poses to elderly and patients with chronic illnesses.
iMedic™ is the most powerful platform for implementation of telemedicine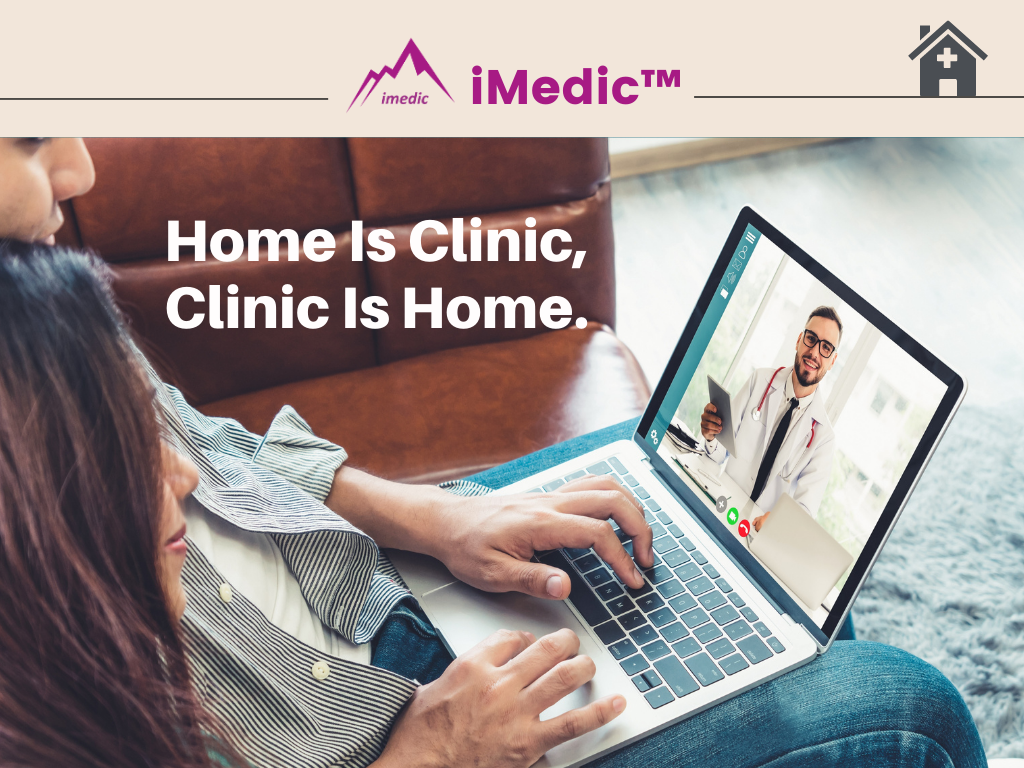 Get your own RYC™ and start managing your health via iMedic™
RYC™ named after the father of neurology, Santiago Ramón y Cajal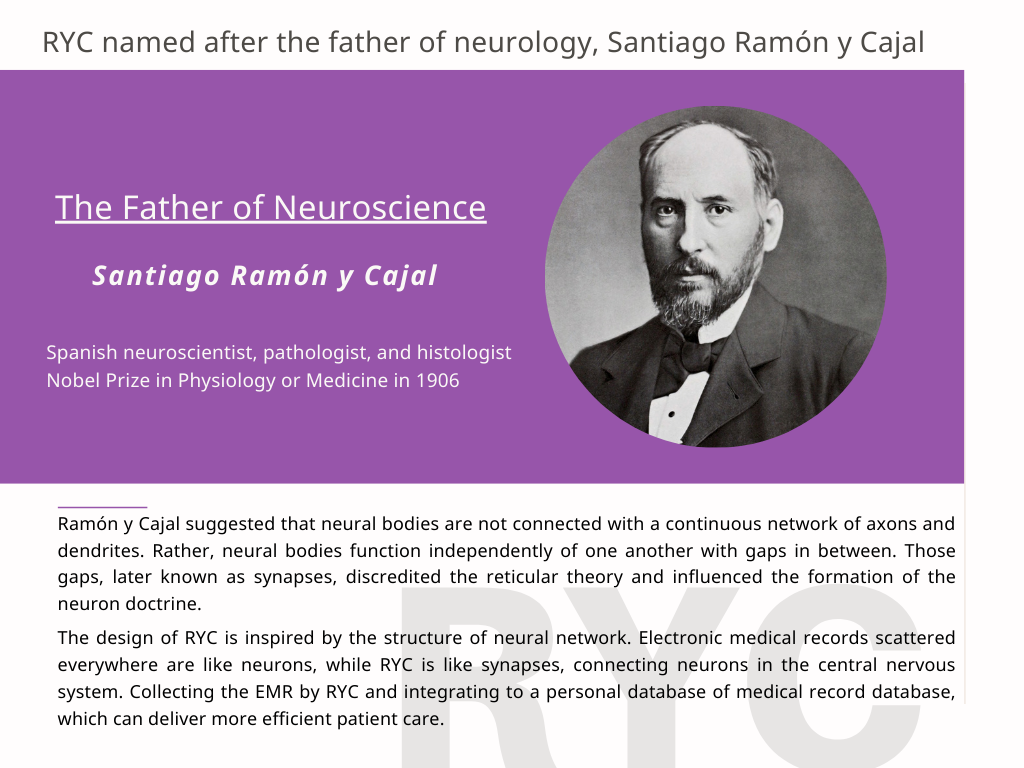 Ramón y Cajal suggested that neural bodies are not connected with a continuous network of axons and dendrites. Rather, neural bodies function independently of one another with gaps in between. Those gaps, later known as synapses, discredited the reticular theory and influenced the formation of the neuron doctrine.
The design of RYC™ is inspired by the structure of neural network. Electronic medical records scattered everywhere are like neurons, while RYC™ is like synapses, connecting neurons in the central nervous system. Collecting the EMR by RYC™ and integrating to a personal database of medical record database, which can deliver more efficient patient care.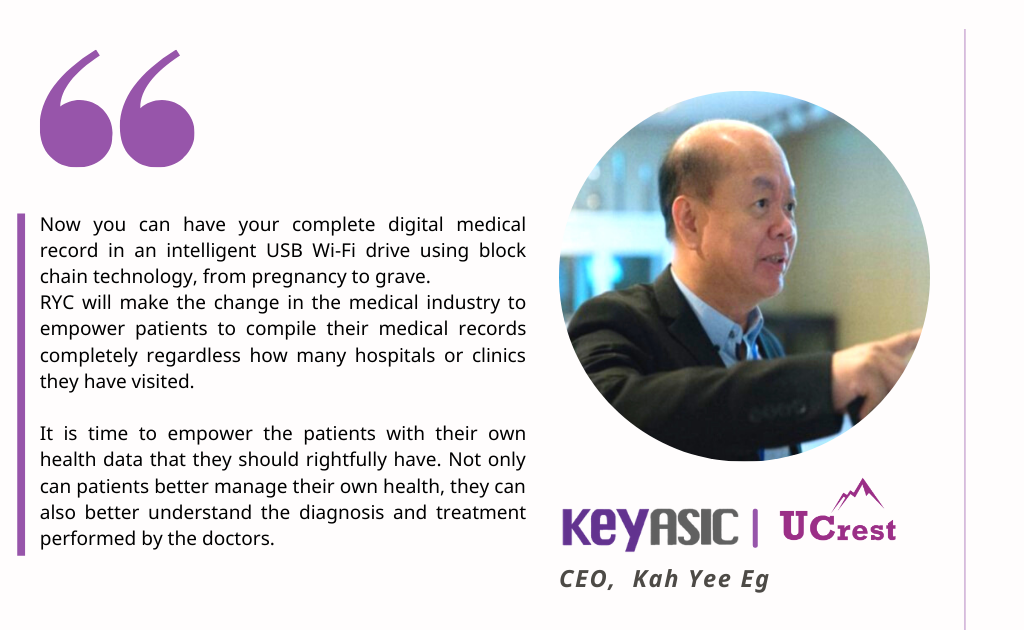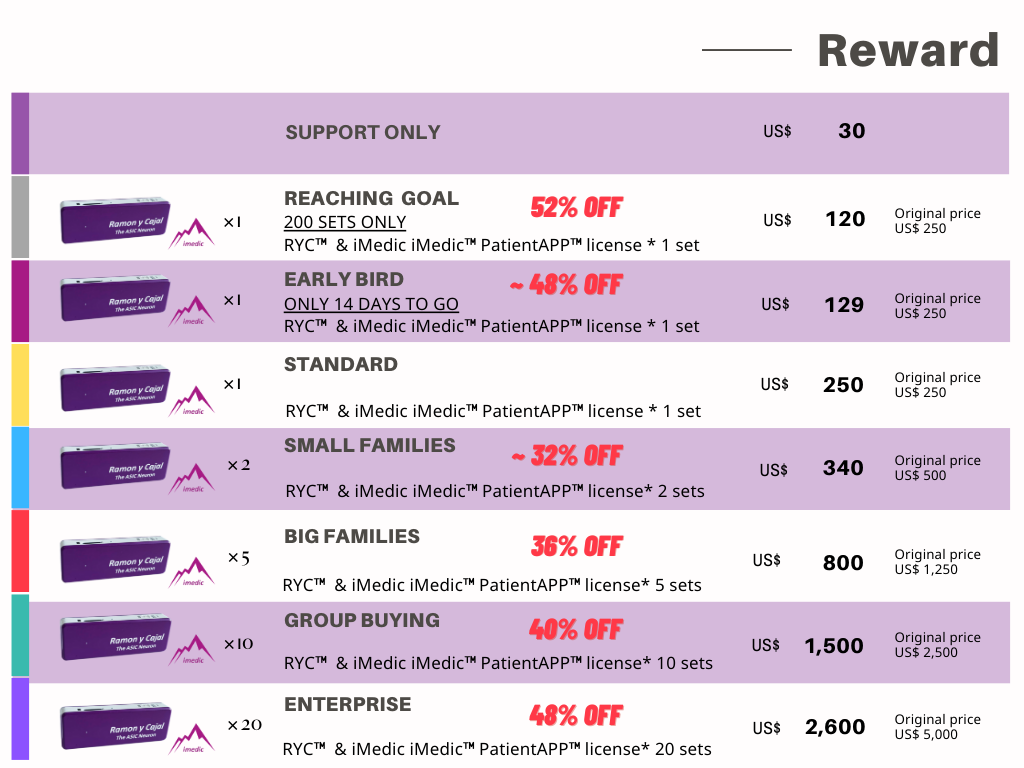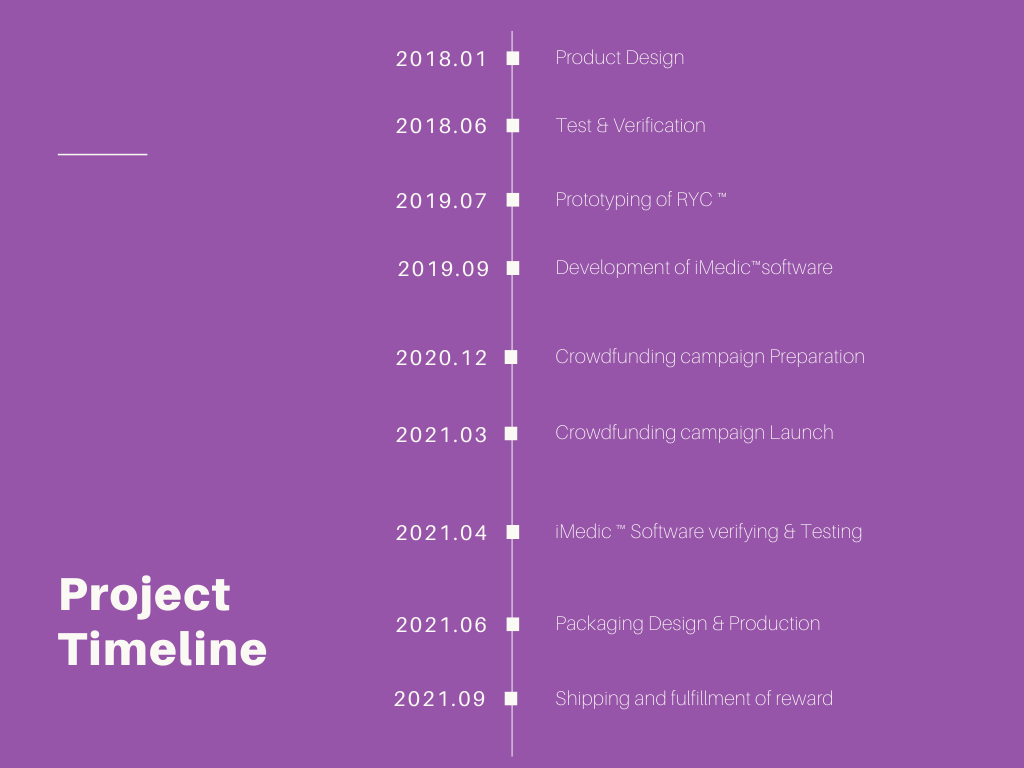 Risks and Challenges
With our years of experience with technical product development, our team is very confident with ourproduct quality, user experience, and shipping schedulefor RYC production. Though we will do our best to minimize the chance ofpotential risk, here are a couple of challenges we canforesee:
- Production
RYC gadgets are manufactured in Taiwan. We will beable to monitor the production process closely, ensure the quality of product and try out best to make everything would go as planned. We will always keep track of the production timeline and our schedule to minimize this risk.
- Delivery
Finding a right logistics partner could be difficult. There's always a risk of loss of packages during transits. In respect with the international delivery, we will be partnering with a reliable company with more than 10 years experience in international shipping to ensure efficient and safe delivery. We have chosen a reputable logistic company to handle all the domestic and international shipment. All the packages will be sent out with tracking number and registered as sign-for.
This is our first time launching a Kickstarter campaign, but we will utilize all possible means to offer the best customer service. You can support us with confidence.
Questions about this project?